---
The world is changing and we have to start adapting to a new, more clean-minded way of living. Designed by a retired NY City Paramedic, the Hygiene Hand is made entirely from a solid piece of metal which is inherently antimicrobial, to help keep hands clean while performing some of your everyday tasks. 
As the days went by we became more and more aware how many times we have to touch things that must dirty. Elevator buttons, buttons to pay by credit card at stores and gas pumps and of course pulling open doors to public bathrooms. 
PROTECT YOURSELF!!!
Features:
Sustainable and 100% recyclable.

Corrosionresistant and holds up very well againstharsh elements andropeated use.

Keep your hands clean everyday.

 
Specifications:
Material: 

Copper, 

Aluminum

Package Include:

 

1 * EDC Door Opener & Stylus

Size: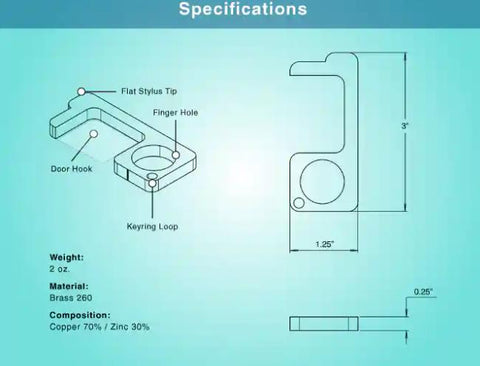 This section doesn't currently include any content. Add content to this section using the sidebar.